In the last gig, I got 10 "killer" slogans from Laylow making it very hard for me to choose the right one. But help is not far away. Remember the theme from the worlds greatest franchise of the '80s: "If you cant decide, on a cool slogan, who ya gonna call?" (It's Fiverr!)Today I tried to find advice to once and for all settle the slogan issue. I found a lot of gigs wanting to give me advice on critical life decisions. This is more than critical though, we need a real marketing expert. Everybody knows that a bad slogan can sink an internet project so quickly you might think you're back at year 2000.Found Glsmedia who will answer any question about blogging for $5: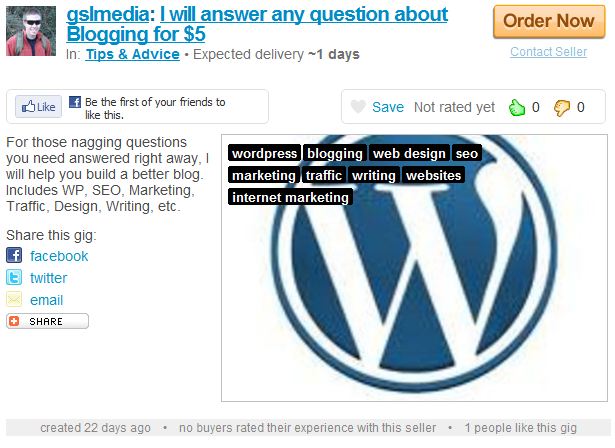 I first found other internet marketing experts but they all wanted 5 days to give me an answer. I believe that if you are a true expert you should be able to answer much faster. Thus, gslmedia is our guy!
My message to the seller:
Hi! I just started the blog http://fiverroftheday.com and need an advice. I bought "10 killer slogans" on fiverr and now I can't decide on which one to use. Please look at the 10 slogans in this post: http://fiverroftheday.com/2011/03/23/gig-number-two-a-slogan-for-the-site/Please tell me which one will be best for the blog and why.Your answer will be published on the blog.
The result from gslmedia:
"Hey,The name of your site is already pretty descriptive of it's content, which is what a tagline is usually for. I would go with option two but shorten it a bit:"Your Daily Dose of Fiver Gigs"It explains a little more about the site.or, based on your site's mission statement, what about:"We Buy and Rate a Gig a Day" It has a good rhythm to it.Thanks"My first impression was "great advice" but then I realised that I was still stuck on square one: I still have to make a choice! Why did he have to suggest one more slogan?So I did what any experienced decision maker would do in this situation: I flipped a coin. The slogan for Fiverroftheday.com will be: "We Buy and Rate a Gig a Day".