Every time I mention Fiverr to somebody they light up and say "Oh yeah, it's that site where you can get a guy to pee your name in the snow!" It was the first thing I ever heard of Fiverr as well. I often referred to it as the name-in-pee-site before I knew it was an awesome marketplace where you could find both logo designs and unique SEO optimized content.That is why this blog wouldn't be complete without my name in the snow, written in pee.I searched but could only find two gigs associated with name ceremonies and yellow liquid. Pjbagels "pee then take a picture" and  Sirfreds "Write your message in the snow with pee"Pjbagel had a picture of a skilift while Sirfred had a picture of an actual name ("Rusty"), written in snow with some yellow substance. I choose to go with Sirfred since it looks like he have had some practice in the fine art of d*ckwriting.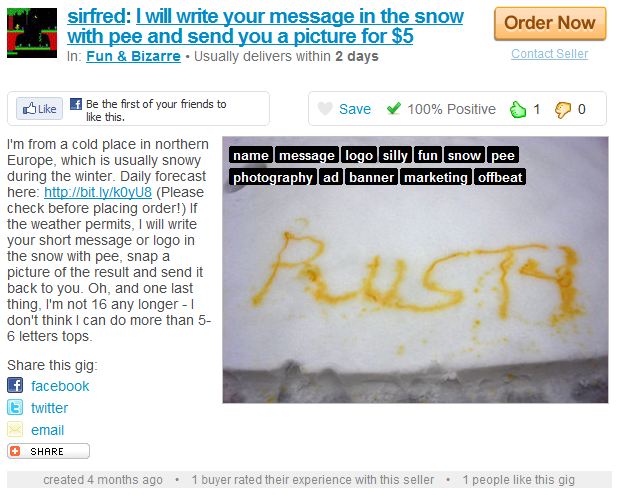 He also provided a link to the weather forecast at his destination, just like I suspect a true pee writer professional would do.
The message sent to the seller:
Hi Sirfred! I would like you to pee my name in the snow. My name is short so it should be no problem.My name is: TORE. I hope you will be succesfull. Good luck!
The result:
I got very dissapointed when I recieved the following message from sirfred:I'm sorry, we're out of snow here! Perhaps next season? Thanks for reminding me, though, so I can put this gig on hold.Kudos to Pjbagel for telling me he can't deliver. I'm glad he didn't decide to cheat using juice and an ice pile outside a hockey rink. Like a proud artist he rather not deliver than deliver badly (still dissapointed though).Fortunately, there is still one more pee artist out there. His picture gives the impression that he is living near a ski resort. I bet they have snow right now.Stay tuned…