Like you say in the valley; "getting an awesome logo is the number one key to success". (can't remember if it was Jobs or Zuckerberg) Where would Twitter be without their "fail whale" or Facebook without their famous blue and white F? The first order of business for any startup with self respect should always be "Get a cool logo". Or maybe its "Get a cool URL" but I have already done that (fiverroftheday.com).Searched for "logo" on fiverr and found pritish who will make logos for 5 dollar.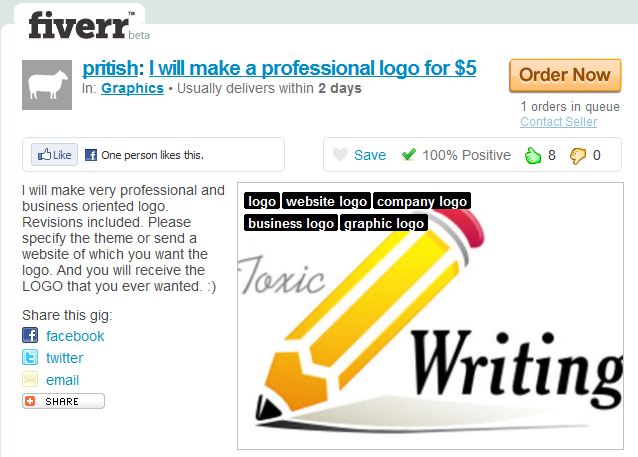 He had 8 thumbs up so I pressed the "Order Now" button and paid via Paypal (8 thumbs must mean that he is a nice guy, I mean; you have to trust the thumbs).I thought using paypal was very quick, I only had to enter my password and voilá; I had five dollars less, but Fiverr told me there was a quicker way:

I guess I have to try "DamnQuickPay" considering the large amount of gigs I'm planing to purchase. Saving a second per gig will mean a lot of hours in the end.After a few minutes I recieved a mail from fiverr thanking me for my order. It also included information on how I could communicate with pritish. I thought that the best idea for me right now was to tell him what the logo was for.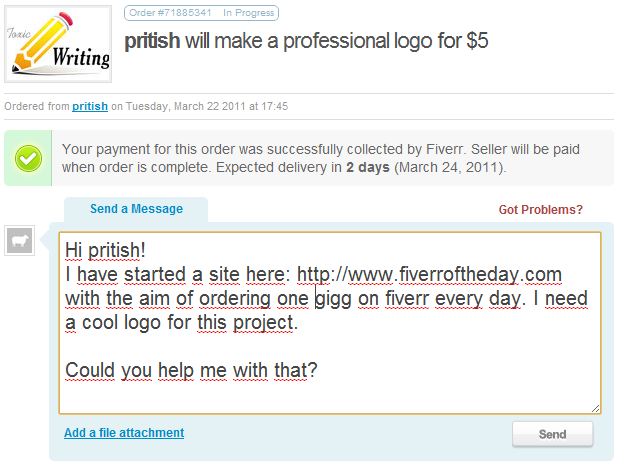 Now I wait for his reply. I hope he is quick, I can't wait ordering another gig.The next gig will probably be a new tagline. Every new startup or internet project should have a cool tagline.