Like all great projects this site need a cool slogan. What better way of procuring one than ordering it on fiverr?I searched for "slogan" and found laylow who will come up with 10 killer slogans for $5.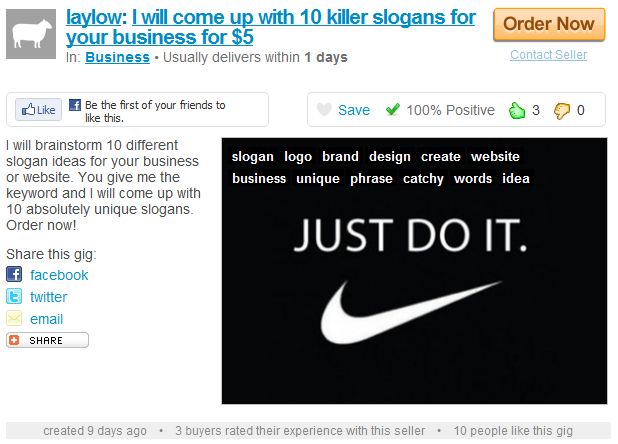 I really like the "killer" part. All new products need a "killer app" to be successful but I don't think I can buy that for $5. I hope a killer slogan will be enough.Getting more than one slogan to choose from sounds nice but it also produces a problem; how will I be able to choose the best one? The paradox of choice is not something I want to battle with. Maybe the next gigg should be to pick the most lethal one of the 10 killer slogans.Only three buyers have rated this seller but the text "Just do it" convinced me to take the plunge. I pressed the "Order now"-button.Unlike the last gig I got a notification this time telling me that the seller wanted extra information. I wrote a message to him saying what I needed. I couldn't think of any keywords but I hope he will do something awesome without much guidance.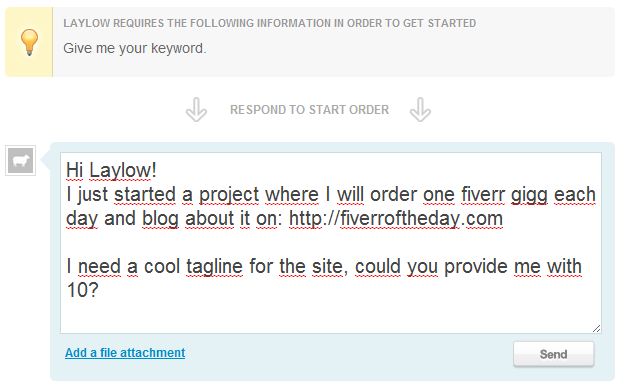 In less than 24 hours I recieved yet another mail saying that my package was delivered, that was really quick!

This was my first delivery (the logo project said it would take at least 48 hours) so it was a new experience. I really liked the package picture on the right. Gives me the feeling that I'm actually recieving something real and not just digits in cyberspace.
Result: The 10 killer slogans from Laylow:
A fiverr a day keeps the doctor away
Get your daily dose of fiverr gigs.
a fiverr a day, a radical new idea.
a fiverr a day, something for everyone.
free a fiverr with every purchase.
Problem? The Solution:a fiverr a day.
It's the Bright One, it's the Right One, that's A fiverr A Day
Don't Get Mad, Get A fiverr A Day
All You Need is A fiver A Day and a Dream
When You've Got A fiverr A Day, Flaunt It
First impression is; I'm still alive. Then I realized: The good thing about ordering 10 is that at least one or two will be good. Now I just need to figure out which one.That will be the next project. Hiring somebody to the choosing for me. I will look for an internet marketer who is confident enough to sell his services for only $5 and still believe he can make a profit.