There are a lot of "I will send you a postcard from my home country" on Fiverr, they even have their own category but nobody seem to be using them. If you sort them by "Popularity" the top one only have one thumb up. That is not a lot of reviews.
Maybe $5 for a postcard is to much and that's why nobody buys them. I will try to change that by buying at least one postcard. It will be sent to my friend, who is expecting a baby.
Who else to congratulate your friend multiplying himself than the famous documentarist Borat? Searched on Fiverr and found Marix who will help me send you a Borat postcard from Kazakhstan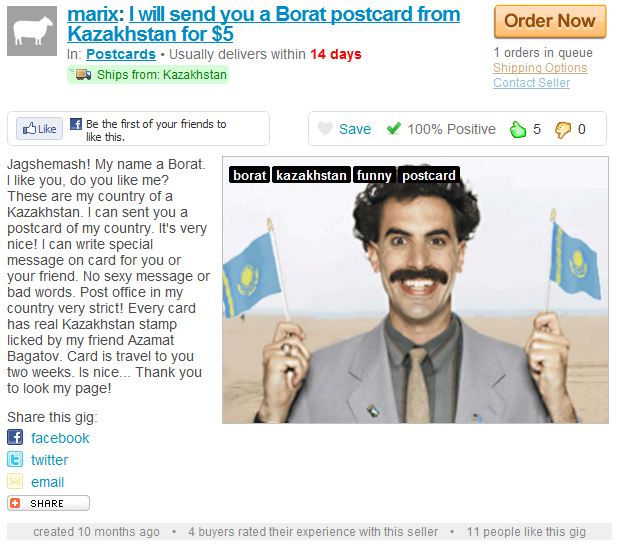 Message sent to seller:
The message:
"Jagshemash! Gratulations from Glorious Nation of Kazakhstan!
Rumour here say Magnificent xxx Make woman Have Baby inside belly!
Is Nice… May kid be strong like Borats sister!"
The name and adress:
xxx
The result:
I was told it would take at least two weeks for the postcard to arrive. I don't want to spoil the surprise by asking him if he has recieved anything foreign communication in the mail.
Besides, I'm not sure he will appreciate the joke. Last time I made a similar joke (a sort of facerape, accepting a weird, embarrasing, friend request on his behalf) he didn't like it. He was mad at me for days. Some people just don't share my sense of humour.
Come to think of it, maybe sending that postcard wasn't such a good idea. I might not get invited to the christening.
And maybe I shouldn't have written about it online either…