So I ordered a lot of keywords earlier. Keywords are useless if you don't use them, so it's time to fill this site with some quality content. I don't have time to write anything myself so I went, as usual, to search for content creating gigs on our favourite five dollar website.Found Andra33, who will write a SEO optimized article on any topic for $5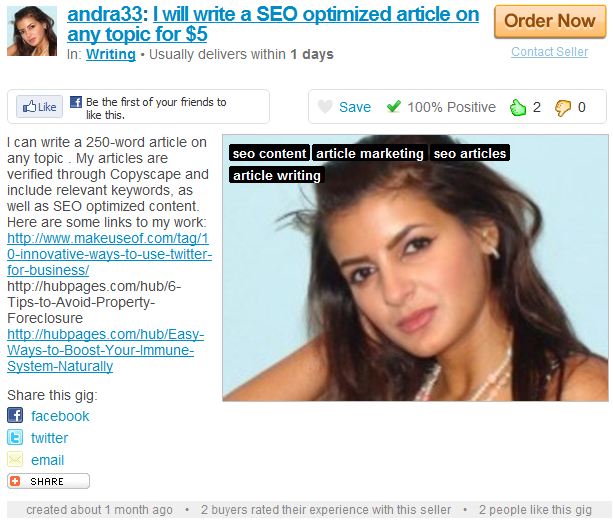 It's nice to see a woman doing quality work instead of all the "I will show you my boobs"-gigs out there.  If you look at her other gigs it does not look like she is doing any modeling work, only SEO and content writing.
The message sent to the seller:
Hi Andra! I just started this site: http://fiverroftheday.comand now I need some good content. Could you please write me an article titled "What is Fiverr"?It should contain the following keywords:
fiverrclone script
microworkers
outsourcing
freelancer
online jobs work from home
php scripts
And any other keyword you think might be useful.
The result:
The text was delivered quickly, within 24 hours, and was really good. Andra33 made a great job. Lots of thumbs up!You can read the entire text about fiverr here.